With our friends over at the Children's Center, we sat down for our monthly story time visit. The theme for story time was Spanish language…and ducks in trucks! Our focus was to slowly introduce something new, in this case the Spanish language, with something they like.
Song One: We started with a welcome song, "We clap and sing hello!" to get the jitters out before diving into the first book. This song comes with many verses to make it fun to move around.
Book One: Jumping right into Spanish could have been a little difficult for children to understand. Our first story was in English called "A Truck Full of Ducks" by Ross Burach . Knowing the little friends enjoy trucks and ducks, we started with this book.
Song Two: After our first story, we sang a little song about trucks. We called it "Five Little Dump Trucks". The kids enjoyed it because we had a visual of the trucks pulling off the road, and we counted how many trucks there was "pulling off the road".
Book Two: Our second book was called " Nuestros Amigos del Alfabeto" by Diane Gonzales Bertrand. This is a story for young kids who are starting to learn spanish. Each page goes letter-by-letter, saying a new spanish word for the kids. After I would read a page, we would figure out what the word meant in spanish by matching words to pictures.
Craft: After having fun with ducks and trucks, we decided to make our own duck puppets. They either made green ducks or yellow ducks. It was a fun craft for the children to remember our day, and keep in mind that "Pato" means duck in Spanish.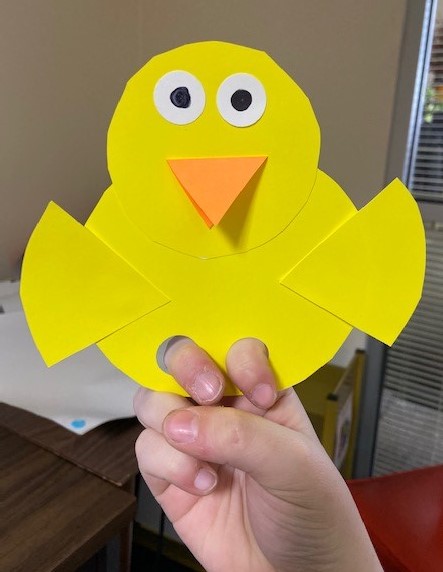 Closing: Heigh-Ho, Its time for us to go!