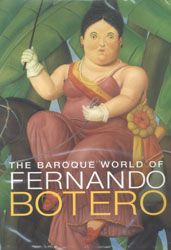 The Baroque World of Fernando Botero
by John Sillevis
N6679 .B6 A4 2006
New Book Island, 2nd floor
Here we go again with more pretty pictures and coffee table books!
If you're not familiar with Fernando Botero, you should be. His rotund artistic subjects epitomize the Colombian-born artist's paintings. This week's featured book puts his work on display, literally, as the book is based on the exhibition (similar to the NST book from August 21) that has toured North America. In addition to spotlighting many of his influential works, the volume contains three critical essays by art scholars. I recommend paging through the book and take in some interesting paintings.