Do you "publish" on the Web, or are you a lurker? User-created content on the Internet is extremely popular–what effects might it have on journalism? advertising? social relationships? politics? and more…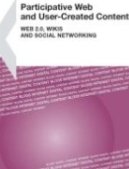 The Organisation for Economic Co-operation and Development reports, based on data from the Pew Internet & American Life Project, that "over one-third of all US Internet users have posted content to the Internet" and 25% of Internet users under the age of 30 have blogs.
The 2007 report lists YouTube as the fourth most-popular web site worldwide, while a more recent visit to the source of this information, Alexa.com, finds it moved up to number two (the ranking is updated daily). Other web sites of user-created content in the top 10 globally are MySpace, Facebook, Hi5, and Wikipedia.
The full report, Participative web and user-created content: web 2.0, wikis and social networking, is available online. It discusses the types of user-created content, active Internet participation in several countries, possible economic and social impacts and implications for policy and business.

The University Library is a federal depository with many federal, state, local, and international documents on a variety of current and relevant issues available to you in print, microfiche, CD-ROM, and electronically. Come check out your government at the University Library!