Here's a little Friday Fun! Check out the wallpapers on the website of the file transfer service WeTransfer, which also welcomes submissions of webadverts (see "The very best of our commercial advertisements"). Some of the wallpapers are just beautiful and inspiring…sometimes curious…and definitely more interesting than the ads on websites' banners or down one side of the display that I regularly ignore. WeTransfer was even an honoree in 2010 for a Webby AWard in the Best Visual Design – Function" category.
For example, "Chip Clark: The Smithsonian National Museum of Natural History" shows a very nonpublic side of the Smithsonian National Museum of Natural History (which I love visiting). It's a bit sad, actually, to see the collections of once-living birds just stored on trays. But it's fascinating to see that there is such a collection. Of course there would be these collections behind the public exhibits, but who thinks about it?
As you sample other wallpapers you may find, as I did, that you're getting lost just following each entry's tags or the offers of "Something Else?" at the bottom of each one. Some of my favorites are "Yoni Alter" showing samples of his animal animations and "World Press Photo – Daniel Ochoa de Olza: The Maya Tradition."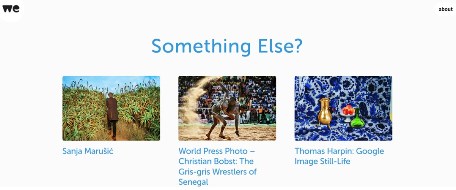 Enjoy.