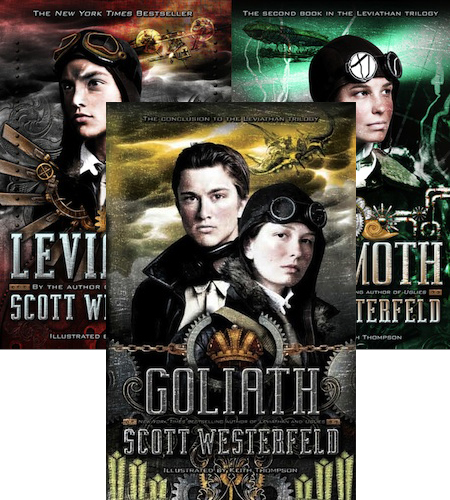 Leviathan
Behemoth
Goliath
by Scott Westerfeld
F Wes
Curriculum Collection, Juvenile Fiction, 2nd floor
Scott Westerfeld has written a lot of juvenile fiction, but his best, in my opinion is the steampunk Leviathan Trilogy: Leviathan, Behemoth, and Goliath. In case you've never heard of steampunk I'll tell you a bit about it. Steampunk is essentially Victorian inspired science fiction, generally occurring either during the reign of Britain's Queen Victoria (1837-1901) or during a later time period that still has Victorian sensibilities and uses the technology of the time period (steam and mechanical as opposed to gas and computers). From there you will find a myriad of variations like dieselpunk. Jules Verne's 20,000 Leagues Under the Sea would be steampunk if it had been written these days instead of in 1869.
Here's what Scott has to say about the story:
"Prince Aleksander, would-be heir to the Austro-Hungarian throne, is on the run. His own people have turned on him. His title is worthless. All he has is a battletorn war machine and a loyal crew of men.
Deryn Sharp is a commoner, disguised as a boy in the British Air Service. She's a brilliant airman. But her secret is in constant danger of being discovered.
With World War I brewing, Alek and Deryn's paths cross in the most unexpected ways, taking them on a fantastical, around-the-world adventure that will change both their lives forever."
Watch the trailer for Leviathan here.
Leviathan Series by Scott Westerfeld and how you can get them:
1. Leviathan (2009)
2. Behemoth (2010)
3. Goliath (2011) – available through UW Request