Did you know? On July 6th in 1957, Althea Gibson became the first African American Wimbledon champion when she won the women's singles title. Later that year she won the U.S. Open as well. You can learn more from the History Channel's This Day in History web site or the book Born to win: The authorized biography of Althea Gibson (3rd-floor Main Collection, GV994.G53 G73 2004).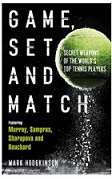 Summer is the perfect time to work on your tennis game, or just learn more about the game! Andersen Library can help. Search Research@UWW for books, media, and more at UW-Whitewater to find books such as Tennis and philosophy: What the racket is all about (online book from University Press of Kentucky, available via Project MUSE) and Game, set and match: Secret weapons of the world's top tennis players (3rd-floor Main Collection, GV995 .H587 2015), and videos such as Vince Spadea play like a pro (2nd-floor Academic DVDs, GV1002.9.T7 V56 2012), Modern tennis methodology (2nd-floor Academic DVDs, GV1002.9 .T7 M64 2010), and Yoga conditioning for athletes (2nd-floor Academic DVDs, RA781.7 .Y622 2006).
Endlessly fascinating are the official web sites for men's and women's professional tennis: ATP World Tour web site for men's professional tennis and the Women's Tennis Association (WTA). Look up when tournaments are happening, find out all about particular players and how well they've been doing, and more. Both are affiliated with the International Tennis Federation (ITF), the "world governing body of tennis." Wimbledon, one of the Grand Slam competitions, is going on right now (June 27-July 10). See Sports Media Watch for televised coverage in the U.S.
Please ask a librarian for assistance with finding additional materials.