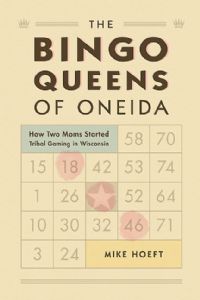 The Bingo Queens of Oneida
How Two Moms Started Tribal Gaming in Wisconsin
By Mike Hoeft
E99.O45 H78 2014
New Arrivals, 2nd floor
Ever wonder how Native American communities and casinos came together in Wisconsin? This book shares the story of two women, members of the Oneida tribe and living on the Oneida Indian Reservation outside of Green Bay, WI, who started organizing games of bingo in the mid-1970s to pay some of their bills. The women's bingo games turned into a big revenue source for their community. The proceeds helped to alleviate some of pressures on the poor and elderly living on the reservation and were also reinvested in projects, such as hotels, that provided jobs. The money raised from gambling helped revitalize Oneida cultural institutions as well. Read this over the summer break and learn more about Wisconsin history.