Here's some fun for history and map buffs:
American Panorama: An atlas of United States history, is an ongoing project at the University of Richmond that currently offers maps of
The forced migration of enslaved people, 1810-1860
The overland trails, 1840-1860
Foreign-born population, 1850-2010, and
Canals, 1820-1860
It also links to a digital edition of the 1932 Atlas of the Historical Geography of the United States, but some of it has been enhanced, e.g., "animated to show change over time or made clickable to view the underlying data." This resource provides nearly 700 maps to enjoy! Use the table of contents to browse the 14 chapters in the atlas and make selections of maps.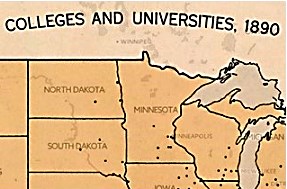 For example, choose "Colleges, Universities, and Churches, 1775-1890" and then "Colleges and Universities" in 1775, then click on "Animate" in the lower left corner to watch the change in the number and geographical distribution of schools over time. But wait! Where's UW-Whitewater on the 1890 map?? Click "text" in the upper right corner to read information about what institutions were excluded.
Want more? Andersen Library has lots of historical atlases, some with special subject emphases! Search Books, media and more (UW-Whitewater) to find gems like
Please ask a librarian (visit the Reference Desk, call 262.472.1032, or choose to email or chat) for assistance with finding additional materials.