President Obama signed Public Law 114-152, the National Bison Legacy Act, on Monday, May 9, designating the bison as our official national mammal. Among the many organizations supporting the legislation were:
The InterTribal Buffalo Council – Its mission is "Restoring buffalo to the Indian Country, to preserve our historical, cultural, traditional and spiritual relationship for future generations."
The American Bison Society – This group was originally established in 1905 after the incredible bison slaughter of of the 1800's.
You can read more about the legislation from Congress.gov.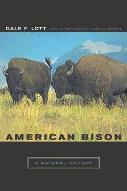 You can learn more about bison using Andersen Library resources, such as the books American bison: A natural history (3rd-floor Main Collection, QL737.U53 L68 2002, or online via ebrary) and The hunting of the buffalo (3rd-floor Main Collection, SK297 .B7 1962 or preview via Google Books). The U.S. Dept. of the Interior, which displays a male buffalo on its departmental seal, provides "15 facts about our national mammal: The American bison" online. Articles may be found using Library databases, such as "Conservation genetics and North American bison (Bison bison)" (The Journal of Heredity, 2009, vol.100:no.4, pp.411-420. doi:10.1093/jhered/esp024). Historical information about "The range of the bison in Wisconsin" (Transactions. of the Wisconsin Academy of Sciences, Arts, and Letters, 1937, vol.30, pp. 117-130) has been digitized and posted online.
Please ask a librarian (visit the Reference Desk, call 262.472.1032, or choose to email or chat) for assistance with finding additional materials.
Andersen Library is a federal and Wisconsin depository library with federal and state government documents on a variety of current and relevant issues available to you in various formats (print, DVD/CD-ROM, online). Check out your government at Andersen Library!