Juan José López will talk about "César Chávez and the Chicano Movement" on Tues., Mar. 31, from 3:30-4:30pm in UC275A. This talk is part of the Latino Heritage Lecture Series. López is Director of Program Management & Special Populations in the WI Dept. of Workforce Development's Division of Employment & Training.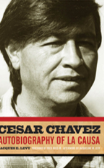 Andersen Library can help you learn more with books such as César Chávez: Autobiography of La Causa (3rd-floor Main Collection, HD6509 .C48 L48 1975) and A war of words: Chicano protest in the 1960s and 1970s 3rd-floor Main Collection, E184 .M5 H36 1985), the DVD Chicano! History of the Mexican American civil rights movement (2nd-floor Browsing DVD, Academic, E184.M5 C431 2011), and articles such as "Chicano movement rhetoric: An ideographic interpretation" (Communication Quarterly, 1995, vol.43:no.4, pp.446-455. Available in the 1st-floor bound Periodicals Collection), "The story of the California Agricultural Labor Relations Act: How César Chávez won the best labor law in the country and lost the union" (California Legal History, 2012, vol.7, pp.409-443), and "Why César Chávez led a movement as well as a union" (Harvard Journal of Hispanic Policy, 2011, vol.23, pp.15-21).
Please ask a librarian for assistance with finding additional materials.