Here's some Friday Fun: Origami! This was inspired by photos of origami creations by Wenche Lise Fossland of Norway on Instagram.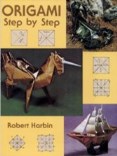 Andersen Library has resources to get you started! Search Research@UWW for the Library's book holdings to find Origami step by step (3rd-floor Main Collection, TT870 .H318 1998), The Usborne book of origami (2nd-floor Juvenile Non-Fiction, 736.982 Obr), and Creative origami (3rd-floor OVERSIZE, TT870 .K28 1967).
Origami isn't just fun (or art), though. It can be used in the classroom (see Math in motion: Origami in the classroom: A hands-on creative approach to teaching mathematics at 3rd-floor Main Collection, QA135.6 .P43 2012 or "Math in motion: Origami math for students who are deaf and hard of hearing" in Journal of Deaf Studies & Deaf Education, 2006, vol.11:no.2, pp. 262-266. doi:10.1093/deafed/enj019).
Enjoy!
Please ask a librarian for assistance with finding additional materials.