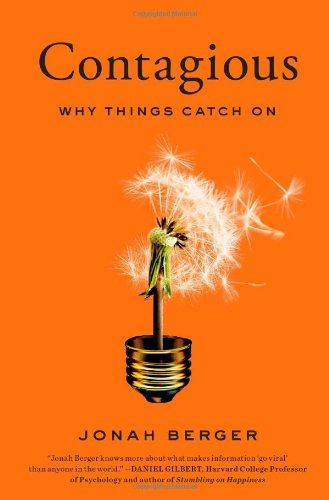 Contagious:
Why Things Catch On
by Jonah Berger
HF5415.153 .B463 2013
New Arrivals, 2nd floor
You've probably seen quite a few "Best of" and "Top Trending" lists the past few weeks as one year ends and another begins. Have you ever wondered why certain things become popular and others don't? Why did The Fox (What Does the Fox Say)? by Ylvis take YouTube by storm, for example?
Jonah Berger, professor of marketing at the University of Pennsylvania's Wharton School, combines extensive research with tangible examples to illustrate how social influence and word of mouth are the most powerful tools for turning a product or idea into a viral phenomenon. Find out how a $100 cheesesteak and Budweiser's "Wassup?" commercials caught on. Then put Berger's suggestions into action and create the next big thing!
Andersen Library has other books on this topic, as well. Try searching for word of mouth or social influence in the library catalog.