Dr. Julius Bailey, Assistant Professor of Philosophy at Wittenburg University, will talk about "Sociology and Hip Hop: How Musical Genres Impact Social Movements" on Tues., Dec. 3, from 3:45pm-4:45pm in UC259A. It's part of the African American Heritage Lecture Series.
The book Jay-Z: Essays on hip hop's philosopher king, edited by Dr. Bailey and containing his essay, "In search of meaning : sign, symbol, and Shawn," can be requested from other UW campus libraries by UWW students and faculty/staff via the free Universal Borrowing service. Requested materials arrive in 2-4 weekdays.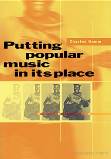 Andersen Library has additional materials to learn more. Search HALCat to find titles such as Performing identity/performing culture: Hip hop as text, pedagogy, and lived practice (3rd-floor Main Collection, E185.86 .D55 2005), Stand and be counted: Making music, making history: The dramatic story of the artists and causes that changed America (3rd-floor Main Collection, ML3477 .C76 2000), America's musical pulse: Popular music in twentieth-century society, and Putting popular music in its place (3rd-floor Main Collection, ML3470 .H35 1995). Search article databases to find articles including "Language in Action: Funk Music as the Critical Voice of a Post–Civil Rights Movement Counterculture" (Journal Of Black Studies, vol.42:no.1, pp.71-82) and "The Push and Pull of Hip-Hop: A Social Movement Analysis" (American Behavioral Scientist, vol.48:no.11, pp.1482-1495).
If you'd like assistance with finding additional materials, please ask a librarian.