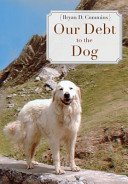 Our Debt to the Dog:
How the Domestic Dog Helped Shape Human Societies
by Bryan D. Cummins
SF422.5 .C85 2013
New Arrivals, 2nd floor
I work surrounded by cat people. Really. I make up part of the mere 18% of my colleagues who have no feline friend to greet me after my work day. I have no cat tales to add to the banter at the office printer, no experience to add to the collective wisdom for helping a colleague discourage his cat from prowling the kitchen countertops. When I saw Richard Cummins' Our Debt to the Dog: How the Domestic Dog Helped Shape Human Societies on the New Arrivals Island, I felt it a fine opportunity to demonstrate the Library's commitment to representing varied points of view by including publications espousing the virtues of the minority canine community.*
Cummins characterizes his approach in the opening sentence of his preface, stating that "This  is an absurdly ambitious book." He has woven his extensive research into a narrative spanning  the 15,000 years of the relationship between Canis lupus familiaris and Homo sapiens sapiens. This book invites a cover-to-cover reading (a full-out scratching from belly to back?), as easily as a sampling of chapters (a scratch behind the ears?) each of which can stand on it's own, from "Hail Anubis: The Dog in Religion and Myth" and "By Our Side: Assistance Dogs and the Enabling of the Disabled," to "Blood Sports."
While I have neither cat, nor dog, ferret or otherwise as part of my household, I am fascinated by Cummins' presentation of the hound in literature, having missed Shakespeare's references in Midsummer Night's Dream to the hound "With ears that sweep away the morning dew" (Act IV, scene 1). I respectfully salute my cousin, the Connecticut state trooper and his canine colleague, on reading chapter eight, "To Serve and Protect," and learning that their partnership has a history dating back as early as the 1300s. These are merely a few of the details that have drawn me into Our Debt to the Dog, a wealth of fascinating and occasionally troubling research into how we have treated our canine companions since their – and our – domestication.
Dog or Cat or…? Click here to take our completely unscientific survey!
*It should be noted that while this group is a minority in the Library, according to the American Veterinary Medical Association (2012) 36.5% of U.S. households reported having a canine companion, yet only 30.4% reported sharing their home with a cat  (https://www.avma.org/KB/Resources/Statistics/Pages/Market-research-statistics-US-pet-ownership.aspx).