While wandering among the current periodical issues on 1st floor the other day, I discovered a magazine called REALSIMPLE. Under the title it says "Life made easier." Aha! Now that sounds like a magazine I should read on a regular basis.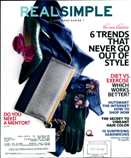 A randomly-selected issue's cover and table of contents promised information on
trends that never go out of style,
"surprising" sandwiches good enough for guests,
diet vs. exercise,
mentoring,
job hunting and social media,
new uses for a pool noodle (that's for you, Katie!),
ballet-barre workout,
de-germifying the bathroom,
an autumn reading list, and more.
Inside it also advertises the realsimple.com web site (when I visited, the "New Use of the Day" was unflavored, waxed dental floss as a cake slicer, which one of my coworkers claims to have heard before). My favorite bit of text came from a University of Arizona professor of microbiology (for the article on de-germifying the bathroom): "…a flushing toilet, when viewed in slow motion, resembles a fireworks display."
In spite of the mental image of a spraying toilet, I enjoyed the magazine, I enjoyed the web site, and if I have time I'll enjoy more issues. I think it offers a nice break from concentrated periods of work or study. The colorful content is an important part of the magazine's value, but if you haven't the time to visit 1st floor, UWW students and staff can read the text via the MasterFILE Premier database.
Have a good weekend, everyone. Keep it real simple!!