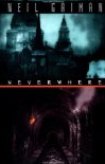 Use of Neil Gaiman's Neverwhere as reading material at Alamagordo High School in NM was challenged earlier in October. The school has temporarily removed it from classroom use (but not from the school's library), pending a review by a district committee. The review committee is accepting public comments (via email) until 4pm (Mountain time zone, so 5pm here) on October 25.
The CBLDF (Comic Book Legal Defense Fund) has posted information about the suspension and submitted a letter in defense of "the professional judgment of teachers and freedom to read of students." The CBLDF also posted some reactions from teachers and librarians.
Have you read this book? Andersen Library has a copy (2nd-floor Juvenile Fiction, Curriculum Collection, at F Gai). OK, curious about the part that was considered objectionable? Go to Neil Gaiman's Tumblr.