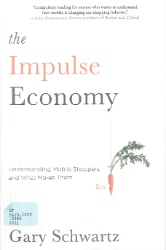 The Impulse Economy:
Understanding Mobile Shoppers and What Makes Them Buy
by Gary Schwartz
HF5415.1265 .S385 2011
New Arrivals, 2nd floor
Having the Groupon app on my phone has been a blessing because I can easily see what great deals they've found for me. Having the Groupon app is a curse because I can easily see what great deals they've found for me AND purchase them just as easily. This week's featured title delves into my phone and psyche and those of people like me to try to figure us out.
Schwartz, the North American Chairman of the Mobile Entertainment Forum and seasoned technology entrepreneur, looks at mobile technology and the opportunities that lie ahead for businesses. The book lays down the foundation of the mobile industry and explains just how to tap into the growing potential. Readers will gain the knowledge on how to start building a mobile presence, from considering the number of barriers to sale to discovering ways to get shoppers there. In addition to the hands-on strategies, he also discusses the changing nature of retail and how we as consumers are evolving to embrace the electronic extension of ourselves [the smartphones]. If the prospect of mobile anything interests you, you'll want to check this out.