Erv Barnes will discuss "Writing as Recovery" in the Dwight Foster Public Library's Community Room (Fort Atkinson, 209 Merchants Ave.) at 7pm On Tuesday, July 17th.
Dr. Barnes, a Vietnam vet and graduate of Fort Atkinson High School, now lives in Yuma, AZ. He wrote the novel Beyond the Blood Chit, which is set in Wisconsin and describes the struggles of a Vietnam veteran recovering from combat post traumatic stress disorder. The book is available from the Dwight Foster library, and also is for sale at the The Velveteen Rabbit Bookshop in Fort Atkinson (20 E. Sherman Avenue). While writing the book he participated in individual and group treatment activities for combat PTSD.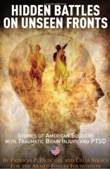 Andersen Library has a collection of books in the Veterans and Service Members Lounge, including Combat-related traumatic brain injury and PTSD: A resource and recovery guide (2nd-floor Veterans Student's Lounge Collection, RC550 .L37 2010) and Hidden battles on unseen fronts: Stories of American soldiers with traumatic brain injury and PTSD (2nd-floor Veterans Student's Lounge Collection, RC552.P67 D75 2009).
There also are materials of interest that are not in the Lounge, but all may be found by searching HALCAT (Harold Andersen Library's catalog).
Please ask a librarian if you'd appreciate assistance with finding materials.