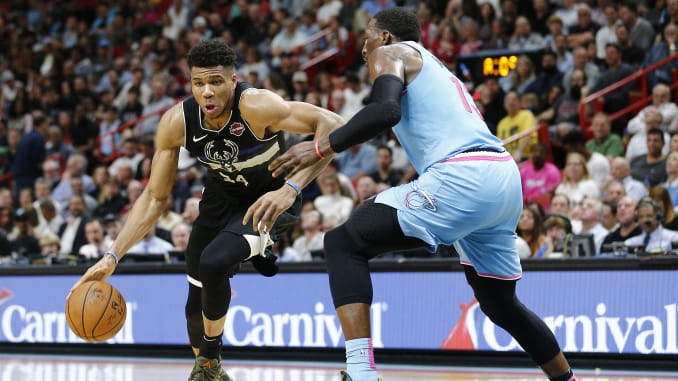 (Guest blog written by Joshua Versh)
The Milwaukee Bucks were taken down by the Miami Heat this past Monday night, ending a six-game win streak and not to mention they recently ended an 83-game streak of scoring 100 points or more per game against Charlotte Hornets on Sunday afternoon. The Miami game score ended up being a score of 89 to 105 and it was quite the lackluster performance between all the Bucks players. The only highlight for the Bucks was Brook Lopez. Brook Shot a crisp 50% overall adding 21 points, 6 Rebounds, and 2 blocks. For the rest of the team the game was a struggle that couldn't end soon enough. Giannis scored a measly 13 points shooting 33% overall and collected 15 Rebounds. The team as a whole shot 20% from 3-point range and 40% overall. These numbers are a definite indication that the Milwaukee Bucks were having a rough night in Miami Shooting.
Anyways, this is the 2nd loss handed to the Bucks this season by the Heat. This is the first team this season to hand the bucks 2 losses. Does this mean that the Miami Heat could be the Milwaukee Bucks only Kryptonite when it comes to a potential matchup in the playoffs or do they have the Bucks offensive scheme figured out? Only time will tell when it comes to those questions. Overall, the Milwaukee Bucks are in somewhat of a rut right now when it comes to their offensive struggle. Which may end up in them missing out on a 70-win season, which has never happened before for the franchise. So, are the Bucks in a rut even though it's not November, but will they bounce back like Big Sean says and take the W against the Pacers and the Lakers?