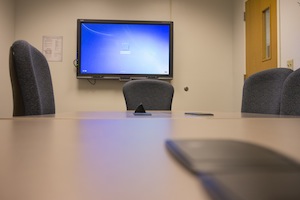 Need a room for a group project? Collaboratory meeting rooms are available for 3-6 students to work on group projects in Andersen General Access Lab, L1008.
Rooms are equipped with:
A desktop computer with the same software as a lab computer
A projector connected to the desktop computer
A SMART Board for projection and collaborative note-taking
Reserve one of the Collaboratory meeting rooms (L1008D, L1008E, L1008F, L1008G, L1008H ) from the comfort of your home through http://www.uww.edu/reserve. See lab attendant upon arrival.
If you have any questions regarding this, please call 262.472.1234.