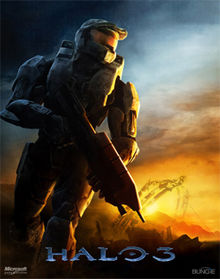 Halo 3 is a first person shooter game developed by Bungie in 2007.
Halo was one of the first video games that I remember. When it first came out I watched my older brothers play Halo 2 and Halo 3 and when I got older I started playing Halo 3 multiplayer with them.
If you don't know the story of Halo yet it is basically you play as the Master Chief, a surgically enhanced super soldier, in another part of the galaxy. You fight against the alien species, the Covenant, and make sure the Halos, massive ringworlds, don't get activated and destroy all sentient life in the galaxy.
After stopping and destroying a Halo in Halo 2 Master Chief and Abriter find out that Ark, located outside the Milky Way galaxy and serves as the construction and control station for the Halo weapon system, are creating another Halo to replace the one you previously destroyed. The Chief decides to use this Halo to eliminate the Flood infestation, but to do that you need to find and rescue Cortana, the AI that helps Chief. Good Luck.
In Halo 3 you can play by yourself or with others in the main story line or in campaign mode. When you play with your friends in the main story the characters you can choose from is the Master Chief, Abriter, N'tho 'Sraom, and Usze 'Taham. The other characters are ex Covenant Elites.
Master Chief

Abriter

N'tho 'Sraom

Usze 'Taham
One of the parts of Halo's gameplay that I loved playing was the campaign mode with my brothers where you can battle against each other in different games or events. Or you can just make your own for your friends to try out. Some of the events you can play are Capture the Flag, Deathmatch, King of the Hill, and so much more.
Halo 3 is available for the Xbox 360