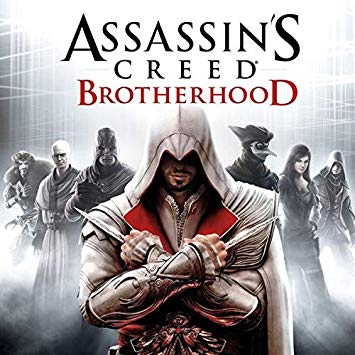 Assassin's Creed Brotherhood is another of the many Assassin's Creed games created by Ubisoft and was released in 2010.
It has the same style of gameplay that all the Assassin's Creed games have. Which makes it easy to keep playing the games when you learn new gameplay styles each time. Brotherhood is the continuation of Ezio Auditore in 1499. The next chapter in his story takes you to fallen times in Rome. There you once again have to prevent the Templars from finding any pieces of Eden and taking control of people's freewill. Still fighting the Templars you help rebuild the Assassin's Brotherhood by taking in people and training them to become like you and help fight. Ezio even starts his journey on becoming the Grandmaster Assassin in the Brotherhood.
Rebuilding the Brotherhood is more of a side faction quest in the game and very fun to do. You can recruit new Assassins by saving Roman citizens from being attacked or even killed by Templars. But don't forget to get buildings for your new crew, or else they have nowhere to go. Later on in the quest you also initiate Ezio's younger sister into the Brotherhood. Once you unlock the feature of thieves, mercenaries, and courtesans within the new Brotherhood you can start using them to distract or even fight by your side against the Templars.
Apart from rebuilding the Brotherhood you also get the chance of restoring Rome to its former glory. Simply by restoring buildings and stores within Rome with money which later on help you gain more money and allies within the game.
Assassin's Creed Brotherhood is available for Playstation 3 and 4, Xbox 360 and One, and PC.