Chocolate Lasagna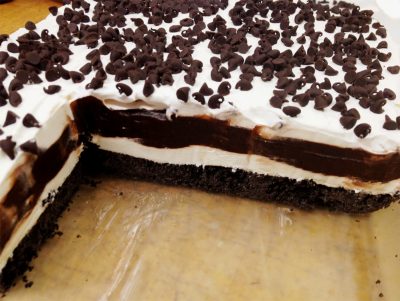 As you can already probably tell on my blog, I love bits of chocolate during the day. When my roommates were talking about our favorite desserts, Rachel brought up chocolate lasagna. I've had it before and wanted to make it again that day. This is definitely for a person with a sweet tooth. The theme of this blog are recipes for a fast-paced lifestyle, but this one is a little different. This dessert is more for groups, just because of the quantity. Even so, it will still be delicious! It is even great for a party and something great to bring over to your friends house. Trust me, they'll thank you.
36 crushed Oreos
6 tablespoons of melted butter
8 oz. of softened cream cheese
1/4 cup sugar
2 tablespoons cold milk
12 oz. Cool Whip
2 packages of chocolate instant pudding
3 cups cold milk
1 cup mini chocolate chips
In a 9×13 pan, butter the sides so the lasagna does not stick. Then crush all of the Oreos and combine with melted butter, lay and press on bottom of pan. Next, in a bowl, mix together the softened cream cheese, sugar, and milk; layer that on top of Oreos. Next, whisk together cold milk and instant chocolate pudding, cool, then place on top of Oreos and cream cheese mixture. Once everything is set, spread Cool Whip on top and sprinkle mini chocolate chips on top. Once all layered, cut and serve!!
---
---