Red Pepper Hummus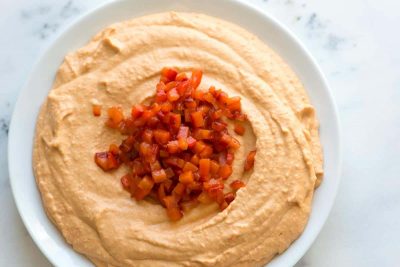 This recipe may be a little more expensive and time-consuming than others on my blog, but well worth the effort! When I was home over winter break, my friend asked me to make red pepper hummus with him. He wanted to try the homemade version of his favorite Sabre hummus. It took a few trial and errors, but we found a great recipe. It can be made in large batches that will last for weeks. Great for lunch on the go, a quick snack when you get home, or a small container that will fit just right in your backpack.
1/2 cup tahini
1/4 cup extra virgin olive oil
2 cloves of garlic, mashed and finely chopped
2- 15 oz. cans of chickpeas
1/4 cup lemon juice
1/2 cup water
1/2 teaspoon salt
1/2 cup red bell pepper
Pretzels, pita chips or vegetables to dip
In a food processor, combine tahini, olive oil, garlic and chickpeas. Once blended, add lemon juice, water and salt. Lastly, cut up about 1/2 cup of red bell pepper and add to food processor. The final result should be creamy and have everything combined. The hummus is paired well with pretzels, chips, or even many vegetables!
---
---