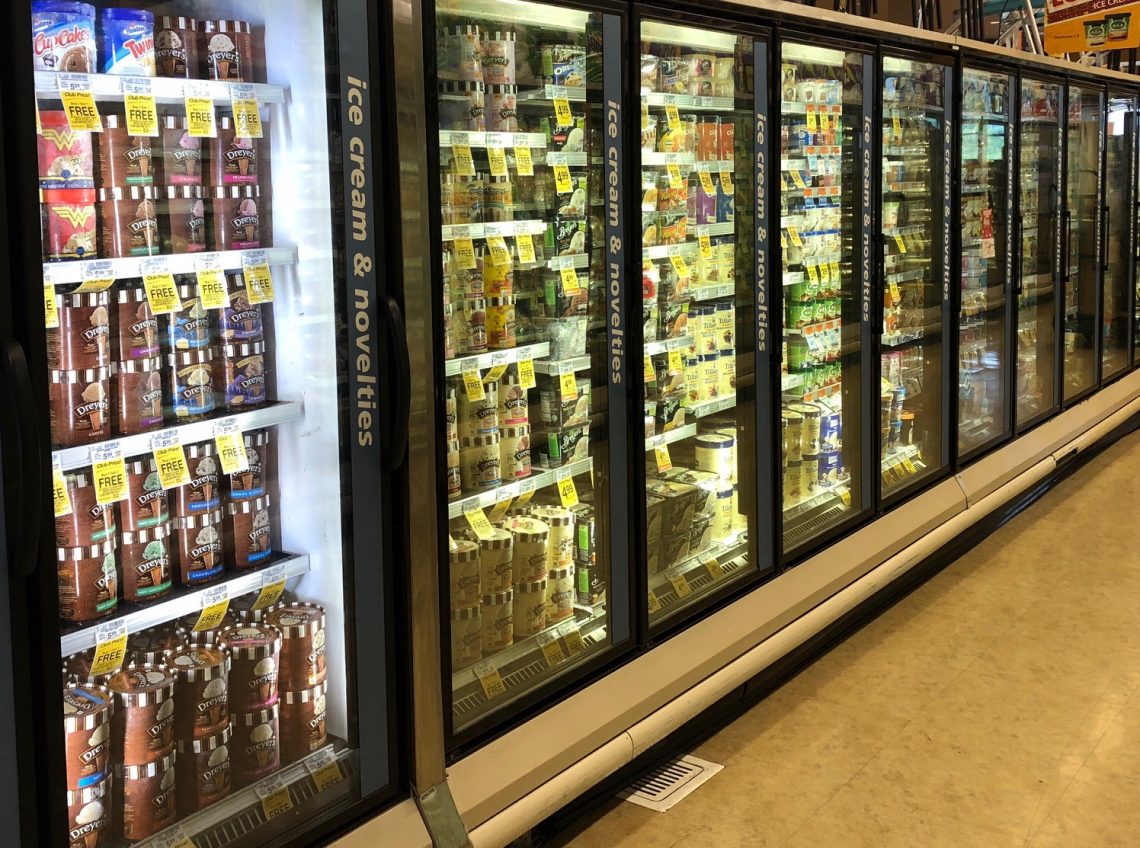 The 5 Best Frozen Dairy Products You Can Find at the Supermarket
*prices vary by store and location; I'm using Pick 'n Save store prices as of 11/3/19 for reference (no sale items). Sales tax (estimated) has been included in final prices.
It's starting to get colder out and you know what that means? Absolutely nothing for me, I'll still be hanging out in the supermarket ice cream aisle browsing the shelves no matter if it's 80 or -20 degrees outside. I know my local Pick 'n Save's frozen novelty and ice cream aisle like the back of my hand, and I've decided to take my knowledge and expertise and use it to compile a list of the top 5 frozen dairy treats you can find at (almost) any Wisconsin supermarket.
1. Talenti® Gelato & Sorbetto
Oh man, these little pints of gelato and sorbetto are so creamy and delicious. There are already tons of different flavors to choose from and Talenti keeps releasing new ones throughout the year. Unfortunately, at full price, they'll cost you about $5.60, but if you pay attention to manufacturer coupons, your store's weekly ad, and your retailer's digital coupons, you can snag one (or more!) of these little containers for almost half its original price. Plus the containers are reusable! Just off the top of my head I can count 6 different individual Talenti containers I've recycled and used for organization and storage.
Flavor Recommendations: Black Raspberry Chocolate Chip, Coffee Chocolate Chip, Mediterranean Mint
2. Klondike® Ice Cream Bars
These little hard-shell ice cream bars are DANGEROUS. I could easily get carried away and end up eating an entire package if I'm not extremely careful and vigilant about only having one a day when I buy them. They are that good. I mean, there's a reason their jingle is "What would you dooOOoo for a Klondike® bar?". These come in a variety of flavors, ranging from Original, to Reese's®, to Neapolitan, and many more. I only ever buy these when they're on sale, but trust me, I feel like these are always on sale, so you won't need to wait forever. A pack of 6 bars will run you about $3.70 at full price.
Flavor Recommendations: Mint Chocolate Chip, Reese's®, Dark Chocolate
3. NESTLÉ® Push-Up® Pops
Okay, obviously these Push-Up Pops are not made with some high-quality, artisanal sherbet that will knock your socks off – these are on my list simply because they bring back so many childhood memories for me, and they're not half bad! These aren't the exact ones I remember eating during the early 2000's but I'd say these come pretty darn close. The sherbet is tangy, the whole process of eating these is fun, and they'll only run you about $5.25 a box (9ct).
Flavor Recommendations: All of these are great, but my favorite back in the day was always Cherry Blast.
4. Breyers® Natural Ice Cream
Literally, the only ice cream my Mom will pay for. And she knows what she's about. Don't listen to what anyone who buys generic, freezer-burned ice cream says. You are paying for quality ingredients and authentic taste when you get this product. My mom always says that the fewer the ingredients in ice cream, especially those you can pronounce and identify, the better it is for you (though it's still ice cream, keep in mind) and this is a great example of that. No metallic-y taste here, ever. A single carton (1.5 quarts) will run you about $5.77, but it's always going on sale with BOGO deals or digital coupons, so pay attention to your coupons and sale tags.
Flavor Recommendations: The other Breyer's ice cream flavors are all pretty good, but the taste of this one is on a completely different level. I always just go for this and then add my own toppings at home if I don't want to eat just plain vanilla ice cream by itself.
5. Purple Door Ice Cream Pints
These are definitely more local than any of the other products I just listed, but this ice cream is totally worth the trip to Milwaukee, one of their new satellite scoop shops, or numerous local markets and grocery stores that carry their products. Purple Door Ice Cream is a locally-owned business in Milwaukee that makes and sells their own ice cream. Their retail shop is located in the historic Walker's Point area near Downtown Milwaukee. They've developed over 200 different flavors and luckily, many Wisconsin residents have the ability to try out some of those flavors in their own community grocery stores. Let me just say, Purple Door honestly has some of the best ice cream I've ever tasted. The pints are pricer than most, often ranging somewhere in between $5 to $7, but it's definitely a treat and cause worthy of your money. You get to support local Wisconsin dairy businesses while also enjoying some uniquely-flavored, delicious ice cream.
Flavor Recommendations: Lemon Cardamom (literally any lemon flavor, but this one is definitely one of the most unique I've ever tried), Whiskey, Salted Caramel, Horchata, Mint Quark, Spiced Pear Sorbet