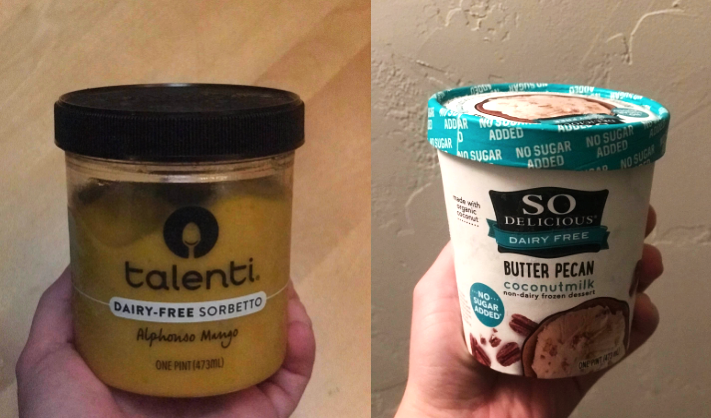 Had a spare moment this past weekend to try clearing out some of the food that had fallen into the deep abyss of my roommates' and I's deep freezer, somehow managing to recover 2 lost pints of ice cream I'd completely forgotten about from this past Spring.
First, I found a Talenti Alphonso Mango Sorbetto. Then I found a So Delicious Dairy Free No Sugar Added Butter Pecan Frozen Dessert.
I don't typically buy dairy free frozen desserts, but for about a month last Spring, I tried testing out a dairy free diet. Some individuals who suffer from celiac disease find that going dairy free, in addition to following a gluten free diet, helped to heal their gut. I decided to try the diet out, especially since many of my family members aren't able to tolerate dairy anyway, to see if I felt any different after changing up what I ate.
Probably the hardest part for me was giving up my beloved frozen custard- and ice cream-eating habits and trying to curb my cravings with dairy free ice cream. I thoroughly enjoyed some Talenti Roman Raspberry Sorbetto, as well as some So Delicious Dairy Free Salted Caramel Cluster Cashewmilk Ice Cream as well, and both lasted me throughout the majority of that month.
Unfortunately, my second (and last) purchase of dairy free frozen dessert was not as successful as my first, which I remembered once I revisited these flavors several days ago.
The Mango Sorbetto was okay overall. The main issue I had with this particular Talenti product (I've never not liked anything from this brand before) was just the taste. Mangoes have a very intense and tart tropical flavor – which isn't bad – just too strong for me. I could only handle a couple bites at a time before needing to put it back, so I know that it would take me countless months to finish off the pint, whereas the raspberry flavor maybe only took me a week or two. I'll still keep it in my freezer and try to get my roommates to finish it up for me, but I'll probably end up dumping it before Christmas Break because it's taking up valuable space we could be using for something else.
The Dairy Free, No Sugar Added Butter Pecan was edible, but the taste was so bland. I definitely take the blame for not realizing that the pint I bought had no added sugar. The ice cream tasted like how I'd imagine watered-down skim milk would taste. There were a couple of pecans I could see within the mixture, but I didn't get as far enough into the pint to taste them. There was no 'butter' flavor to go along with the pecans anyway. The texture was another problem I couldn't get used to. The frozen dessert felt kind of chalky and grainy in my mouth, and didn't melt on the tongue like most other ice creams do. At that point I just threw the whole container out.
Looking back, I'm very grateful that I only was dairy free for a month and didn't end up having a bad reaction to dairy products once I ended the diet. I can handle not being able to eat good bread, or cakes, or pizza, but I don't think I could ever give up my Wisconsin cheese, milk, and ice cream. I'm glad I also cleared up a bit of space in my freezer so I can go out and buy more dairy-filled ice cream! I did learn that there are dairy free ice cream alternatives that aren't terrible (like the raspberry sorbetto or the cashewmilk frozen dessert), so if I ever decide to try that diet again, I'll have some options I can eat to satisfy my sweet tooth.