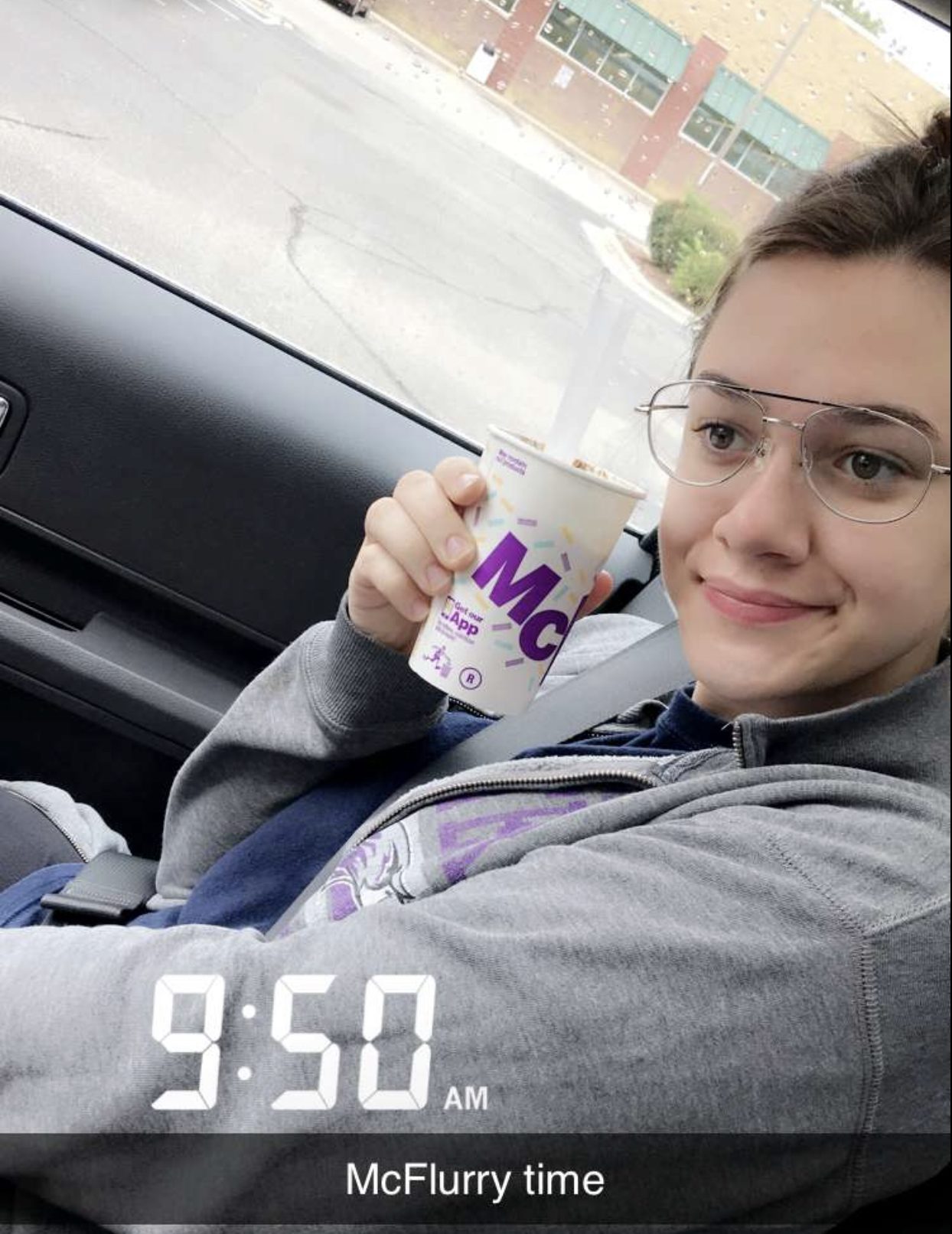 Sometimes, cheap ice cream is better than none…
Yes, a McFlurry is an appropriate choice for breakfast.
There's nothing I love more than fresh, creamy, frozen Wisconsin custard from Oscar's, Kopps, or Culver's. But for a broke college student paying for their undergraduate degree entirely out of pocket, I can't always afford that luxury.
Here are my main frozen go-to's when I'm tight on cash:
McDonald's McFlurry with Reese's®️
Wendy's Classic Frosty®️ – Chocolate or Vanilla
McDonald's McFlurry with Reese's®️
Price: (as of 10/05/19 at my local Whitewater, WI McDonald's)

Snack Size: $2.49
Regular: $3.19

Made with vanilla-flavored soft-serve
Contains pieces of Reese's®️ Peanut Butter Cups
Major Pros

I'm usually willing to spend up anything under $4 for a quick ice cream fix; both sizes fall under that limit, even with added sales tax.
Many McDonald's locations are open late (Whitewater location is 24-hours), which is very convenient for my hectic, changing schedule, and late night studying munchies.
3 McFlurry options – Oreo®️, Reese's®️, and M&M®️

Can't have Oreo®️ McFlurry because of celiac (though back before I was diagnosed, this was my top choice).
Specific candies used in M&M®️ McFlurry are miniature-sized. When mixed with the frozen soft-serve, these candies harden, which makes chewing a bit more difficult.
Reese's®️ McFlurry contains soft, medium sized chunks of PB cups that are often equally proportioned in size and quantity to the soft-serve.

Also, I gained a whole new appreciation for McFlurries when they changed spoon designs several years back to make the bowl part of the spoon much wider. The previous design of of the spoon's bowl was a bit deeper and narrower, which didn't fit the shape of the mouth very well and made it difficult to clear the bowl of all its contents in a single bite. This may sound like a super ridiculous thing for someone to notice, but I'm telling you; the spoon you eat ice cream with plays a big role in your overall enjoyment of the eating process!
Wendy's Classic Frosty®️ – Chocolate or Vanilla
Price: (as of 10/05/19 at my local Wauwatosa, WI Wendy's)

Small: $0.99
Medium: $1.99
Large: $2.29

No additional toppings or additives, just the frozen dairy mixture with either vanilla or chocolate flavoring
Major Pros

I'm usually willing to spend up anything under $4 for a quick ice cream fix; there are 3 different sizes, which all fall under not just that, but a $3 limit, even after additional sales tax is applied.
Many Wendy's locations are open late, though I don't believe I've ever been to one that operates 24-hours a day. My regular Wauwatosa location does have late hours on the weekends (open till midnight), and even later drive-thru hours those days (open till 2AM).

2 flavor options – Chocolate and Vanilla

Update 11/12: Wendy's has unveiled a limited-edition Birthday Cake Frosty®️ to commemorate the 50th anniversary of the fast-food chain's start. The company didn't say how long this flavor will be available for purchase. This new Frosty®️ can also be upgraded to a sundae for an additional cost. A Small Frosty®️ will cost around $1.49 and the sundae upgrade will cost around $2.19.
I really enjoy the flavor and consistency of the Frosty®️, especially given it's cheap price. They don't taste super artificial and mixture's consistency falls somewhere in-between a milkshake and regular ice cream. I'm personally not a huge milshake fan, especially runny ones, and even if I do get one, I prefer to eat it with a spoon versus drinking it through a straw. When you order a Frosty, they're not meant to be drank like a milkshake anyway, so the workers only usually provide a spoon, which I can appreciate, since usually I have to request a spoon for similar frozen dairy treats when only given a straw.
As far as cheap, quick frozen dairy treats go, I think either McFlurries®️ or Frosties®️ can satisfy just about anyone's sweet tooth. There are a number of different size and flavor combinations people can choose from to suit their individual tastes, and these locations often have convenient and accessible hours of operation.
The only reason I ranked the McFlurry®️ higher than the Frosty®️ is because of convenience in Whitewater. I have plenty of late night ice cream options to choose from during the summer when I live back home outside of Milwaukee, WI, and my regular Wendy's location is a bit out of the way, so it's not an establishment I frequent super often. Whitewater is a much smaller town than the one I grew up in, so there aren't a ton of nearby late-night ice cream establishments around, except McDonalds. And since my schedule is all over the place during the school year and I tend to have less money than I do in the summer (where I live rent-free back home and work full-time), I often find myself studying into the wee hours of the morning and wanting to reward myself with an affordable, frozen treat, which I can get anytime of the day at the McDonalds.
Sure, frozen soft-serve from a fast-food restaurant isn't an ideal choice, but when you only have a couple bucks in change and need your ice cream fix, being able to pick up a frozen dairy treat from a fast-food drive-thru (even while wearing pajamas) can help make college just a bit easier to endure.