Famously married to actor Kelsey Grammar, Camille (Meyer) definitely made her mark on her time as a Real Housewife of Beverly Hills. Although she pops in and out randomly throughout newer seasons, Camille was only on RHOBH for two seasons, which I could have sworn she was on more, I guess the Bravo checks weren't big enough, so she decided to settle for cameos.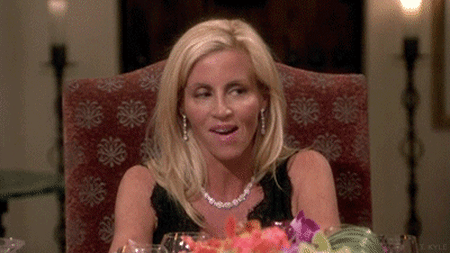 Something we cannot forget about this Bravolebrity is her famously slandering Faye Resnick for her past photoshoots. That single dinner party set the entire vibe of Camille on Real Housewives. She may have big, innocent doe eyes, but the words that come out of Camille's mouth are anything but the slightest bit of nice.
Since she's been off the show officially, Camille has been keeping a low profile. She has been on Watch What Happens Live! a handful of times and according to her Instagram, is still traveling, giving her well wishes to her fans, and quarinting in her beach-front Malibu home. Ever since she's been a housewife, I have always wondered: What does Camille actually do for a living? To me, it just seems like she's married? In my deep dive of her past, apparently she has been a dancer, performer, screenwriter, and actor, but to me, she just seems like a Beverly Hills socialite.
Although Camille is not big on drinking, we still have to toast to her. So let's cheers our whatever-filled glasses to Camille Meyer, a never forgotten addition to the first two seasons of Real Housewives of Beverly Hills. It was a pleasure to get to know her, but boy am I glad we don't have to deal with her anymore.