If the Housewives can guarantee us anything, it's that they bring the drama, especially over a nice sit-down dinner with a private chef and catering staff. Here are my three favorite dinners that were less than calm.
#3: Crazy Kelly at Scary Island
It's no secret that Kelly Bensimon is one of my least favorite people in Real Housewives terms. Her drunken (and probably drug-induced) state resulted in a major match between her and our dearly beloved Bethenny Frankel on the girls' trip to St. John. Kelly accused Bethenny of trying to kill her in her sleep. I'm sorry but if I thought someone was going to try to kill me, I wouldn't be going on trip after trip with them. This was the time that Kelly also told Bethenny that she was "nothing but a cook". Which we all know is far from true. Although today it seems that Kelly has her head on straight, that dinner really showed the world what kind of person Kelly Bensimon is: creepy, drunk, and mentally ill.
#2: Crystal Meth and the Psychic
Now we move to the infamous "Dinner from Hell". Ms. Camille Grammar decided it was a wonderful idea to not only invite a foul-mouthed Brandi Glanville to her dinner, but also a Craigslist psychic who told Kyle her husband will "never emotionally fulfill her". Before the psychic and her e-cigarette got their 15 minutes, Ms. Glanville said some of the most famous words ever to come out of any Real Housewives franchise. "At least I don't do crystal meth in the bathroom all night long, bitch!". In Brandi's defense, Kim did take multiple trips to the bathroom that night. Do I think it was crystal meth? No. Do I think she had a gram of blow up her nose? Of course! These are the Real Housewives we're talking about. They are some of the most drugged up people in this world.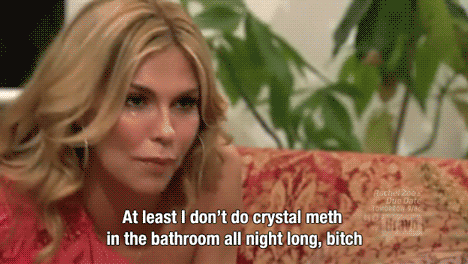 #1: Teresa's Table Flip
Drum roll please………… of course I HAVE to mention the iconic table flip. In all honesty, I have nothing to say about this except for: if you know, you know. "Cop Without a Badge" and "Prostitution Whore" are the only things I have to say.