Ah yes, it's that time of the week again. This week, we are highlighting a not only a housewife, but a model, a mother, and an overuser of the word "creepy". Kelly Bensimon bulldozed her way through seasons two through four of Real Housewives of New York.
Kelly's time as a housewife was as short as her temper, but she has made a lasting impression on all fans of the show. If she wasn't taunting Ms. Skinny Girl Cocktails herself, she was eating gummy worms and drinking vodka while blaming others for her feelings. In my honest opinion, Kelly ranks as one of the worst housewives, she's right at the bottom with Carlton. I think one of the reasons why I didn't like her was because she would constantly put people down for their public or private lives they were living. One of the biggest turn offs for me was when she said to Bethenny, "You are not a chef. You are a cook. It's creepy". For a woman who wants to be a role model to her two daughters, she sure does a lot of tearing other women down, instead of building them up.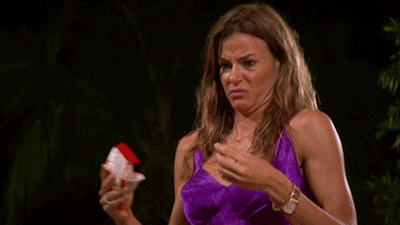 As I looked to Instagram to see what Ms. Bensimon has been up to, it seems that she is minding her own business. When she's not selling her jewelry line, she's taking her dog for walks around town. She seems to be a firm believer in mask wearing (HALLELUJAH) and looks like she is enjoying life with her daughters by her side. All signs point to her staying in her own lane, something she should have done in 2009.
With the good, the bad, and the ugly, let's grab our sour gummy worms and raise one for Kelly Bensimon. Someone we will never forget, but damn are we glad she's gone!