Looking for something to do this Saturday? Do you like pets? Maybe you can't have any but you'd happily show some pets a little love?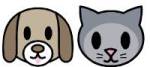 Well, the first ever "annual" Wisconsin Adoption and Rescue Network (W.A.R.N.) Pet Expo will happen in Whitewater's Cravath Lakefront Park on Saturday, June 2nd, from 10am-3pm. At least 19 adoption agencies are taking part, including Whitewater's Community Cat, Lakeland Animal Shelter, and The Humane Society of Jefferson County. There will be breed-specific rescue groups present as well. Pet food suppliers will be there with samples, specials, and coupons too.
So c'mon out and support "Adoption as an Option!" And even if you can't provide a fur-ever home right now, if you could foster a pet who is waiting for a permanent home, talk to the people at this event about it!
Would you like to learn more about pets? Andersen Library has resources! Search the catalog for books such as Encyclopedia of the cat (2nd-floor Reference Collection, SF442.2 .F64 1997), American Animal Hospital Association encyclopedia of cat health and care (2nd-floor Reference Collection, SF447 .S87 1996), Domestic cat: The biology of its behaviour (3rd-floor Main Collection, SF446.5 .D65 1988), and Cats, the complete book (3rd-floor Main Collection, SF442 .B8313). Andersen Library would have similar titles for dogs, as well as books about pets for children and many, many works of fiction that feature our beloved pets, such as the Mrs.Murphy mystery series by Rita Mae Brown (co-authored by her cat Sneaky Pie Brown). Mrs. Murphy, by the way, is a sleuthing feline character!
Please ask a librarian for assistance with finding materials.