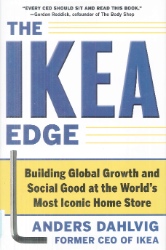 The IKEA Edge:
Building Global Growth and Social Good at the World's Most Iconic Home Store
by Anders Dahlvig
HD9773 .S84 D34 2012
New Arrivals, 2nd floor
With the approaching holiday weekend [only three days for me, more for others… not that I'm bitter], people have grilling and relaxing and being outside on the mind. Some might have home improvement and interior decorating on the agenda for the extended time away from work. Does that include a trek down to Schaumburg to visit one of my favorite stores on the planet? This week's featured title goes behind the scenes at the Scandinavian blue-and-yellow beacon of affordable modern home furnishings.
Dahlvig has a pretty good idea of what goes on at IKEA, given that he led the company for ten years, stepping down in 2009. He worked his way from store manager all the way to the top post over a tenure of twenty-six years. He shares his experiences as the CEO of a company that is regarded as a industry leader for more than just its retail dominance. The furniture giant also prides itself on its commitment to social responsibility and shows that success in both areas is possible. The text serves as a peak into what takes to juggle the demands of the market and society simultaneously and flourish as a company.