GoodGuide claims to be "the world's largest and most reliable source of information on the health, environmental, and social impacts of consumer products." You can use it on the web or get the mobile app for your tablet or smartphone.
At this site you can search for specific products or browse categories to identify the best products. Of course, there will be products that are not rated, like the first dry cat food I tried to find (naturally) and the Kindle.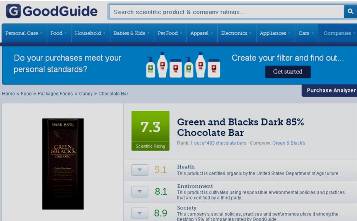 GoodGuide assigns three ratings to products and companies to indicate how healthy, environmentally friendly, and socially responsible they are, ranging from 0 to 10 (10 is best). Ratings also are color-coded (green is good, red is bad, tan or orange hues are in the middle). Both product-level data and company information are used. I strongly recommend reading more details about the ratings on the web site, so you can decide how much to rely on them. While looking at a product's ratings, click on the overall rating to see more detail about it.
The usefulness of ratings like these depends on the data available for examination, which in many cases is not much. Learn more in article, "The trouble with green product ratings" (Fortune International (Europe), vol.164:no.3, pp.32-36).