No, this operation doesn't involve the construction going on here. Operation Beautiful, the powerful project focused on changing negative body image, has taken over the library. You may come across post-it notes in not only mirrors, but books, magazines, and DVDs throughout our collection. You'll notice these positive affirmations all over campus, as it is being done in conjunction with National Eating Disorders Awareness Week.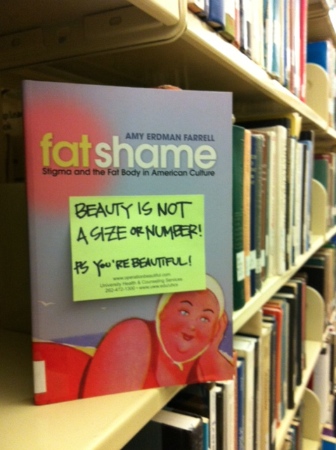 Think it's a cool idea? The founder of this inspirational movement, Caitlin Boyle, will be speaking on campus on February 28 at 7PM in the UC. Check out the promotional flyer for all of the details.
Are you researching body image or eating disorders? It turns out that we have a number of resources for you! A search in HALCat for "eating disorders" returns 170 results, with materials like Body Shots: Hollywood and the Culture of Eating Disorders (PN1995.9.B62 F69 2011, Main Collection, 3rd Floor) or Body Image, Eating Disorders, and Obesity in Youth: Assessment, Prevention, and Treatment (RJ506.E18 B635 2009, Main Collection, 3rd Floor) as possible sources. If you're looking more for articles, there are plenty databases to check depending on your angle: PsycINFO for the psychological effects, Communication & Mass Media Complete or ABI/Inform Complete for the impact of advertising and marketing, or GenderWatch for the gender perspective. If you need assistance finding resources, make sure to ask a librarian.
Of course, remember that our campus provides support for those struggling with these issues. The professionals at University Health & Counseling Services would love to help you, but you have to make the first move.
P.S. You're beautiful.