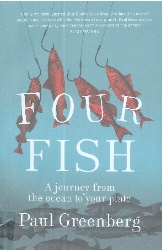 Four Fish
A Journey from the Ocean to Your Plate
by Paul Greenberg
SH167 .S17 G74 2010
New Arrivals, 2nd floor
I grew up in the middle of Illinois, with the closest body of water, Lake Michigan, about four hours away from my house. Needless to say, we didn't eat much fish, fresh or otherwise, and as an adult, I personally can't eat anything that lived in water. Imagine my surprise when I moved to Spain for a year and experienced the lifestyle of a culture with seafood very prominently featured in all dishes. Do you ever think about how that piece of food got to the store? This week's featured title takes a ride from the shores of the oceans and into your home with your aquatic meal.
Greenberg, renown author with a personal interest in the subject, dives into the water to explore four kinds of fish – salmon, sea bass, cod, and tuna – and how they get from their homes to yours. Along the way, the author talks about the issues and challenges facing the marine food industry, like health concerns to domestication, in a fun and engaging style of writing. While you're be entertained, you'll learn a thing or two about the 'last wild food' left, with notes at the end for further research.