The Center for Global Education's fall 2011 Global Café series continues on Wed., Nov. 9th, from 5-6pm with a focus on Saudi Arabia, Slovakia, and India (location: Andersen Library's big-screen TV area, near the Food for Thought café). In this series, international, study abroad, and travel study students talk about their home countries or international experiences.

Check it out! Andersen Library has resources on cross-cultural communication and travel.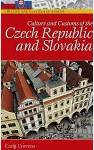 Search HALCat, the online catalog, for books or videos, such as Culture shock!: Saudi Arabia (3rd-floor Main Collection, DS215 .T75 2003), The global etiquette guide to Africa and the Middle East: Everything you need to know for business and travel success (3rd-floor Main Collection, BJ1838 .F669 2002), Culture and customs of the Czech Republic and Slovakia (3rd-floor Main Collection, DB2035 .C73 2006), , and India, a documentary film (2nd-floor Academic DVDs, DS407 .I63 2004), and Culture shock!: India. Or, check out the information on these and other countries in Library resources such as the Global Road Warrior! The Ultimate Guide to the World.
Please ask a librarian for assistance with finding materials.