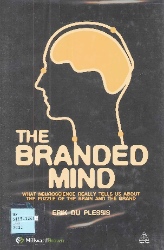 The Branded Mind
What Neuroscience Really Tells Us About the
Puzzle of the Brain and the Brand
by Erik Du Plessis
HF5415.12615 .D8 2011
New Arrivals, 2nd floor
Now that I'm back from my trip to the Big Apple, all I can think about it how one's entire travel experience is shaped by advertising. I mean, the cabs even have televisions with targeted ads right there in your face – you can't avoid it. However, what goes on in your mind when you see these marketing messages? This week's featured title looks into advertising and marketing affect your brain.
Neuroscience, the study of the brain, has made great strides in recent years. The advances made have allowed people like Eric Du Plessis to research the mind's abilities and involvement in the business side of things. The author goes into detail about the science of neuromarketing, the buzzword created with the collision of these two fields, and the implications on current and future practices. If you're looking for a little more about concepts like brand soma [the 'feeling' behind a brand] or heuristics [mechanisms for decision-making], then this would be the book for you.