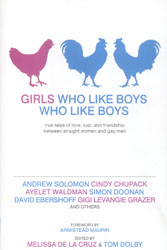 Girls Who Like Boys Who Like Boys:
True Tales of Love, Lust and Friendship Between Straight Women & Gay Men
Edited by Melissa de la Cruz & Tom Dolby
HQ76 .G55 2007
New Book Island, 2nd floor
When you hear the title of this book, you really can't help but laugh. The editors compiled this volume of essays to pay homage to one of the most-cherished friendships because they hadn't seen one of its kind. Although the cliché of the straight girl and her male (not-so-straight) shopping companion gallivanting around the mall (think Clueless) is one manifestation of this friendship, it's certainly not the only one. The book features personal accounts from both sides sharing their experiences about growing up and coming out, falling in love with each other (well, the women do anyway), and confiding every little secret with the other person. For more information about the book and the authors, check out their promotional website.