As I was browsing the New Book Island, this massive volume jumped out at me because I lived in Barcelona. The cover is boring, but the book is fantastic!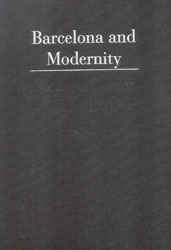 Barcelona and Modernity:
Picasso, Gaudí, Miró, Dalí
by William H. Robinson, Jordi Falgas, Carmen Bellon Lord
N7109 .C3 R63 2006
New Book Island, 2nd floor
Barcelona and Modernity represents the published version of an art exhibition of the same title at the Cleveland Museum of Art and the Metropolitan Museum of Art in New York. The purpose of the exhibition was to "introduce the American public to the vitality and complexity of Catalan modernism," which featured works by Pablo Picasso, Antoni Gaudí, Joan Miró and Salvador Dalí. The exhibition places their works within that of lesser-known Catalan visionaries that also made an impact on Barcelona. The installation included a variety of items from roughly one hundred lenders, captured in the 500+ pages of this beautiful book. If you're interested in modernist art or Barcelona, this is definitely something to check out (or just browse, it's kind of big).