Would you like to go to class in a building where the temperature cannot be regulated? Professor W. S. Johnson didn't like teaching in such a building, so in 1883 he invented the thermostat to control the temperature in Whitewater's Old Main. It became so popular that Johnson started a company to manufacture his invention – Johnson Controls.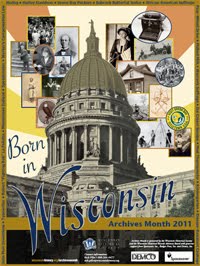 Wisconsin Archives Month 2011 celebrates ideas and creators who were "Born in Wisconsin." Other ideas from Wisconsin include the typewriter, the dairy cooperative, Harley-Davidson motorcycles, Evinrude outboard motors, and the first American kindergarten.
Stop by Special Collections on Andersen Library's first floor and admire the display in honor of Archives Month. You also can visit the blog of the Society of American Archivists-Student Chapter at UW-Madison, which is featuring stories about unique collections from participating archives and historical societies around the state throughout October.