Movies and scientific ethics may seem an unlikely pairing, and maybe I just think too much when I see movies about scientific research, but when I saw Rise of the Planet of the Apes this weekend I had the same reaction I'd had to Jurassic Park. I enjoyed both movies, but both did raise important issues. Scientific research has bestowed great benefits upon us all, but needs to be carefully controlled to avoid undesirable unexpected consequences. And animal research and gene therapy, of course, are highly controversial.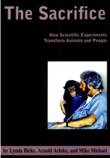 Andersen Library has resources for learning more on topics such as these. Search HALcat (Harold Andersen Library's catalog) for keywords such as the phrase "animal experimentation" to find titles including The sacrifice: How scientific experiments transform animals and people (3rd-floor Main Collection, HV4915 .B57 2007), Experimenting with humans and animals: From Galen to animal rights (3rd-floor Main Collection, QP45 .G84 2003), and In the name of science: Issues in responsible animal experimentation (3rd-floor Main Collection, HV4915 .O75 1993).
There are also plenty of articles in journals, newspapers, and magazines on these topics as well. You can search the Library's article databases, or browse the online issues of the ILAR Journal (Institute for Laboratory Animal Research), to find articles such as "The ethics of research on great apes" (Nature, Sept. 1, 2005, vol.437:no.7055, pp.27-29).
The Internet can provide resources such as "Guide for the care and use of laboratory animals" (8th ed., 2010) and the "Public Health Service (PHS) Policy on Humane Care and Use of Laboratory Animals" (2002) and other documents from the Office of Laboratory Animal Welfare, National Institutes of Health (NIH), U.S. Dept. of Health and Human Services. NIH, the "steward of medical and behavioral research for the Nation," also provides a web site for the general public about animals in research. You also can check out web sites of sanctuaries for retired research animals such as Save the Chimps and Chimp Haven.
Please ask a librarian if you need assistance with finding materials.
UWW's Andersen Library is a federal depository with many federal and state documents on a variety of current and relevant issues available to you in print, microfiche, CD-ROM, and online. Come check out your government at Andersen Library!