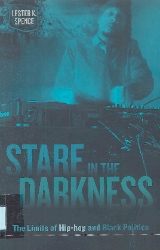 Stare in the Darkness:
The Limits of Hip-hop and Black Politics
by Lester Spence
E185.86 .S687 2011
New Book Island, 2nd floor
Music provides the vehicle for the expression of endless possibilities. As a window to one's soul, an artist may feel the need to share internal feelings like their pain of a bad break-up or their undying affection for their partner. Others just need to get out more simple concepts, like what day it is. However, lyrics also convey deeper messages about social issues. This week's featured title discusses the hip-hop genre's activist history and the African American community.
Spence, political science professor at Johns Hopkins University, delves into the topic of hip-hop music, and rap in particular, and its place in the black community and American society as a whole. Through extensive reviews of existing literature and original research, he seeks to answer the question of what the embedded politics are in its production, consumption and circulation. The author examines not only the music itself, but also the effects of the music on the attitudes and perceptions on African Americans. The book serves as an excellent starting point for investigating the hip-hop movement and its political leanings, as Spence includes a lengthy bibliography for further research.