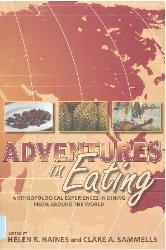 Adventures in Eating:
Anthropological Experiences in Dining From Around The World
edited by Helen Haines and Clare Sammells
GT2850 .A48 2010
New Book Island, 2nd floor
Food: one of the those universal necessities in order to live. Everyone has their own tastes and dietary restrictions, whether they want to have them or not. Some people take their food very seriously [like those people that take pictures of their meals], while others just grab what's around them to get them through the day. However, if you'd traveled outside of the country, you know firsthand how different the restaurant and/or cooking experiences can be. This week's featured title takes us on a culinary journey around the world.
Haines and Sammells, anthropology professors, have collected the stories of anthropologists that study the cuisine and eating habits of other societies. Covering everything from the main course to the dining customs to dessert, the social scientists recount their experiences in fourteen different countries. I think that my favorite chapter is the one about a vegetarian in Argentina – a very meat-centric culture. It reminded me of Spain and their 'vegetarian' dishes that still had chunks of beef in them. Overall, the book paints an excellent picture of the variations of each culture's relationship with food and dining.