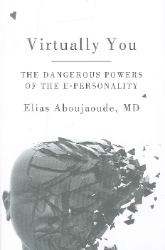 Virtually You:
The Dangerous Powers of the E-Personality
by Elias Aboujaoude
RC569.5 .I54 A26 2011
New Book Island, 2nd floor
My apologies – I know that you've all been clamoring for a New Stuff Tuesday post for quite some time. You're lucky that I remembered that today was even Tuesday and not Monday, let alone that it's New Stuff Tuesday!
The Internet is a magic place. You can be whoever you want to be, and no one can really verify that you're telling the truth or if you're lying. However, does the change in behavior online affect our interactions in real life?
Aboujaoude, psychiatrist at the Stanford University School of Medicine, investigates what compels people act in ways that would not be socially acceptable, such as the comment rage that overcomes many people, and how that in turn affect everyday interactions with individuals in-person. He utilizes recent cases like the mass viewing of the man completing suicide or the mother that posed as a teenager to bully her daughter's classmate, ultimately with the same ending. The author also examines less severe changes in social graces, our impatience with timing when everything online is instant [sounds like students with doing research with books, eh?]. I'd take a look at this book if you're curious about the darker side of the Internet and its effect on offline habits.