In honor of the fact that today marks my one-year anniversary here in Whitewater, I've decided to feature a book about careers.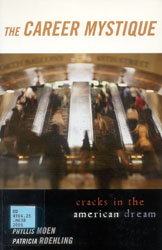 The Career Mystique:
Cracks in the American Dream
by Phyllis Moen & Patricia Roehling
HD4904.25 .M638 2005
New Book Island, 2nd floor
The Career Mystique (think Feminine Mystique) questions whether or not the hard work really does pay off in the long run. Authors Moen and Roehling, professors of sociology and psychology respectively, contend that although the American Dream did exist and had a good run, the realities of today prevent many from reaching it. They examine the origins and historical perspectives, as well as the future of the "lockstep life course." The book, althoughly scholarly (it has a HUGE list of references), is incredibly easy to read, interspersed with personal accounts of surveyed individuals.