You've been seeing blog posts about films shown this month in honor of March being National Women's History Month. Well, here's a publication to look at in honor of the world's women: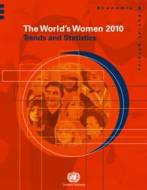 The World's Women 2010: Trends and Statistics – This annual United Nations publication is a very eye-opening summary of how women are faring all over the globe. For example, chapter 5 on "Power and decision-making" will reveal that although women account for approximately half of the electorate:
• Becoming the Head of State or Head of Government remains elusive for women, with only 14 women in the world currently holding either position.
• In just 23 countries do women comprise a critical mass – over 30 per cent – in the lower or single house of their national parliament.
• Worldwide on average only one in six cabinet ministers is a woman.
• Women are highly underrepresented in decision-making positions at local government levels.
• In the private sector, women continue to be severely underrepresented in the top decisionmaking positions.
• Only 13 of the 500 largest corporations in the world have a female Chief Executive Officer.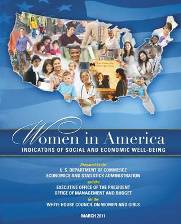 Also want to check out the U.S. Government 's report on Women in America: Indicators of Social and Economic Well-Being.
Please ask a librarian for assistance with finding materials.