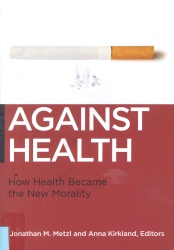 Against Health:
How Health Became the New Morality
edited by Jonathan Metzl & Anna Kirkland
RA418 .A53 2010
New Book Island, 2nd floor
This is by far my favorite time of year. It's the perfect opportunity to come up with all of the ways in which I am going to change my life for the better in the coming year [whether they are accomplished is a completely different story]. Like many of you, the resolutions that I think of revolve around the issue of health and personal wellness. And hey, what do you know? That's what this week's featured title is all about.
Metzel and Kirkland, professors at the University of Michigan, have assembled a compilation of essays delving into the topic of health. Rather than examining the trials and tribulations endured to live a 'healthy' life, the chapters focus on the sociological and economic factors that propel individuals to eat right, exercise and take their daily vitamins. Divided into sections, the contributors look the issue as a cultural phenomenon, viewing it through the lens of morality. This book certainly brings a different perspective to the debate surrounding the definition of health and what it means to you.