International Year of Planet Earth, jointly initiated by UNESCO (United Nations Educational, Scientific and Cultural Organization) and the International Union of Geological Sciences (IUGS), has political support from 191 countries and partnerships with many organizations. The "year" runs January 2007 to December 2009, but the UN designated 2008 as its official year. Goals include increasing awareness and effective utilization of earth sciences research to further improve quality of life for societies worldwide and the safeguarding of the planet.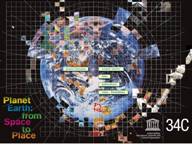 UNESCO's online presentation "Planet Earth: From space to place" introduces the Year's ten broad themes: health, climate, groundwater, ocean, soils, deep Earth, megacities, hazards, resources, and life. Online brochures are available for each theme also.


Your University Library could provide a wealth of materials for anyone interested in researching topics within these themes. Searching the Library Catalog would find titles such as A reef in time: the Great Barrier Reef from beginning to end (3rd-floor Main Collection, QE566.G7 V47 2008), which has been described as the "Silent Spring for the world's coral reefs." The Federal (U.S.) Documents collection includes series of research reports from agencies such as the U.S. Geological Survey, many of which are also online, e.g., The association of arsenic with redox conditions, depth, and ground-water age in the glacial aquifer system of the northern United States (Yikes). And, of course, there would also be relevant articles in many of the Library's article databases, such as BioOne and Nature. Please ask a reference librarian if you would like assistance in finding materials.

The University Library is a federal depository with many federal, state, local, and international documents on a variety of current and relevant issues available to you in print, microfiche, CD-ROM, and electronically. Come check out your government at the University Library!