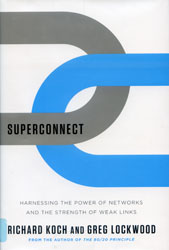 Superconnect
Harnessing the Power of Networks
and the Strength of Weak Links
by Richard Koch and Greg Lockwood
HM741 .K67 2010
New Book Island, 2nd floor
We all know that saying that 'it's not about WHAT you know, it's about WHO you know.' In this day and age, digital networks give a individual's personal, professional and social networks a much more visible presence, displaying those relationships for all to see (depending on your privacy settings). This week's featured title looks at how these connections can impact your life.
Koch, business strategist and author of the wildly successful 80/20 Principle, and Lockwood, venture capitalist that invests in network businesses, come together to describe how your family, friends, colleagues and acquaintances all factor into the potential for advancement in your life and career. They examine the types of connections between people – strong relationships, weak links and hubs (groups) – and their behavior, which may be counter-intuitive. The authors use real-life examples, like the run-in with a former classmate and finding love through your neighbor's landscaper [take that, E-harmony!]. Interestingly enough, they indicate that it doesn't take a massive networking effort – leverage what you already have.