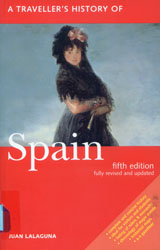 A Traveller's History of Spain
Fifth Edition
by Juan Lalaguna
DP66 .L25 2001
New Book Island, 2nd floor
If you have been reading the New Stuff Tuesdays column for a while, you'll know that I'm a big fan of Spain and studied there in college. Well, as a shout-out to their first victory in the World Cup, this week's featured title gives you the full scoop on the country that is known for more than just their championship fútbol team.
Lalaguna, professor at the University of North London and native of Navarra (an autonomous community in the northern part of the country), present the long history of the Spanish people. Starting with the Iberian Peninsula, the author explores its initial influences from Islamic, Greek and Roman cultures. He then concentrates on the rise and fall of the Spanish Colonial Empire and the Bourbon monarchy. Lalaguna also brings the reader up to speed with Spain's internal struggles and subsequent dictatorship under Franco in the twentieth century. Finishing up with contemporary Spain, he covers the reigning monarch, Don Juan Carlos I, and the state of the country today.
Also of note: this book is part of a series – be sure to check out the others available at the Andersen Library.